Enchanted Evening PDF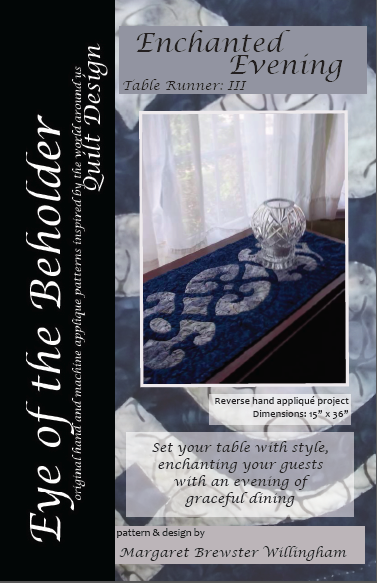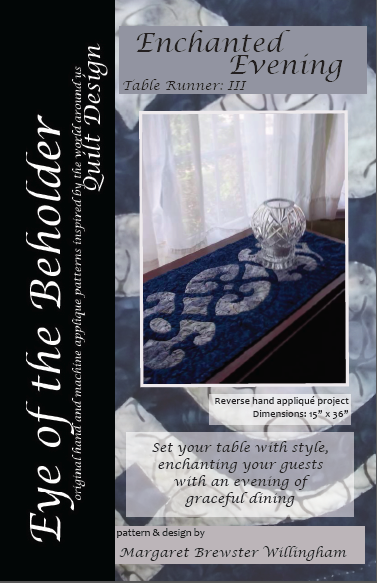 Enchanted Evening PDF
Set Your Table With Style, Enchanting Your Guests With An Evening Of Graceful Dining
Difficulty: Beginner
reverse appliqué pattern – includes instructions for hand work only
(15" x 36")
The graceful lines of this piece will add beautiful elegance to your table. For the best results, pick materials with subtle variegation - batik or hand-dyed are perfect.
PDF Download
What is a Pattern PDF and how do I print it?
A Pattern PDF is a digital file of the complete pattern instructions and full-size pattern pieces. You will also be emailed Welcome Notes.
After purchase, a link to the Pattern PDF will be sent to you automatically – click the link to get your pattern. This link expires after 24 hours, but we can re-send it to you if you have any trouble. Just email us at admin@eobquiltdesign.com
All pattern booklets are 8.5" x 11" and can be printed on an in-home printer.

The full-size pattern pieces will need to be put on a USB stick and taken to a copy shop that can print in large format.

This will be an additional expense for you. However, a Pattern PDF is priced at 25% off the print pattern price because of this additional expense to you.

Please check in your area that you have a copy shop that can print the pattern for you before purchasing.
This Pattern prints on paper that is: 36" x 15"
If this seems complicated…
All of our patterns are available as Print Patterns as well. Click here to - Return to shop page. Add your selection to your shopping cart and we will mail you an already printed pattern.
finished dimensions: 15 in x 36 in
materials required:
background

fabric:

18 in

x

40 in

recommended

(½ yd)

of

light

top

fabric:

18 in

x

40 in

recommended

(½ yd)

of

medium

or

dark

backing

fabric:

18 in

x

40 in

recommended

(½ yd)

batting:

18 in

x

40 in

recommended

(

½ yd)

binding:

3

strips

-

2

.

5 in

x

44 in

(

I

used

the

Top

Fabric

)