It's a Wonder Ornaments KIT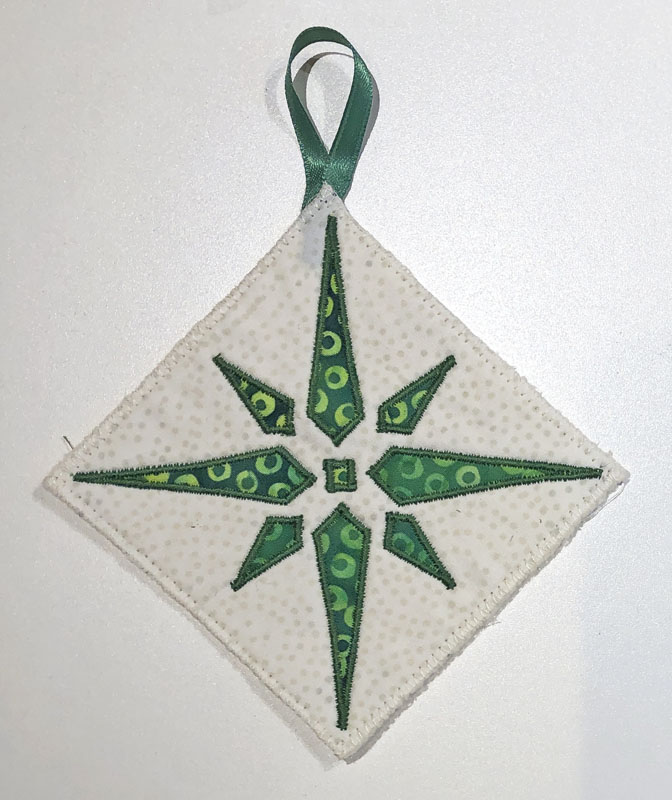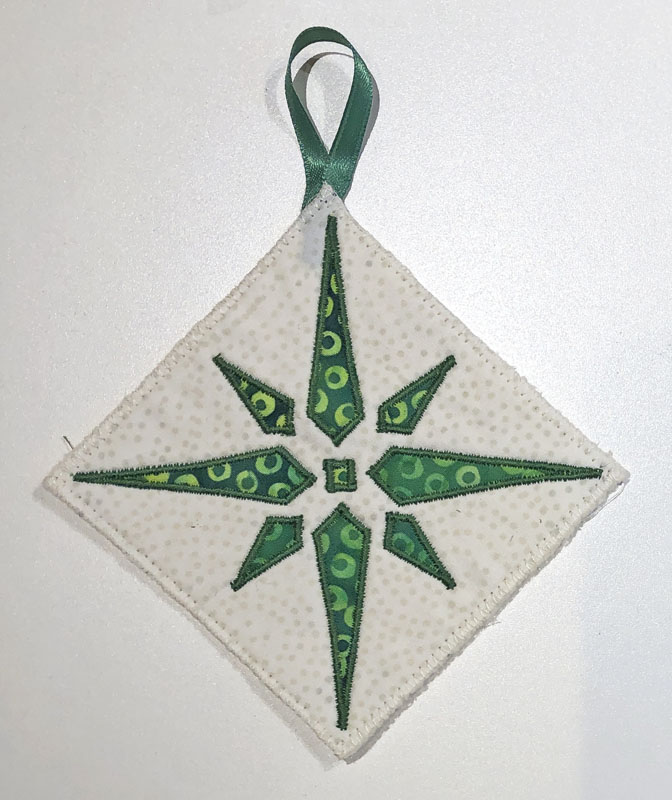 It's a Wonder Ornaments KIT
Mini-Star of Wonder Ornaments: Fabric Kit
(4" x 4")
LIMITED OFFER: 2 kits available
This kit has all you need to make two quick, easy 4" x 4" ornaments to twinkle on your tree! They are fast and fun to make! You get everything you need:
5 squares batik fabric by Island Batik in red, green and white

2 squares of batting

5 squares of Soft Fuse iron-on fusible

2 hanging ribbons

1 spool Aurifil thread

complete step-by-step directions
We've already cut the fabric, batting, and fusible, traced the design and even fused the top fabric with the design. You are all set to begin cutting, ironing and stitching.
Using Eye of the Beholder's easy methods
Make one with Machine Reverse Applique and Appli-quilting!

Make one with Machine Applique and Appli-quilting!
You need only provide a sewing machine that has a zig-zag stitch, and a pair of small, sharp scissors. If you need a great pair of really sharp scissors, try out our 4" bent-handled sharp tip scissors by Kai.
Design for kit comes from the book Christmas RAPPing, Christmas Quilts featuring Reverse Applique & Paper-Piecing by Margaret Brewster Willingham & Nan Baker. If you love this project, you'll love the book. Get Christmas RAPPing today!
Kit includes:
1 spool Green (#2892), Aurifil 50 wt.
Ornament #1: Machine Reverse Appliqué
1 – 4" x 4"square Green fused Mini-Star of Wonder: Reverse Appliqué, top fabric

1 – 4" x 4" square Red Mini-Star of Wonder: Reverse Appliqué, background fabric

1 – 4" x 4" square Green Mini-Star of Wonder: Reverse Appliqué, backing fabric

1 – 4" x 4" square batting

2 – 4" x 4" squares Soft Fuse, iron-on fusible
Ornament #2: Machine Appliqué
1 – 4" x 4" square White Mini-Star of Wonder: Appliqué, background fabric

1 – 4" x 4" square White Mini-Star of Wonder: Appliqué, backing fabric

1 – 4" x 4" square batting

2 – 4" x 4" squares Soft Fuse, iron-on fusible