Christmas RAPPing book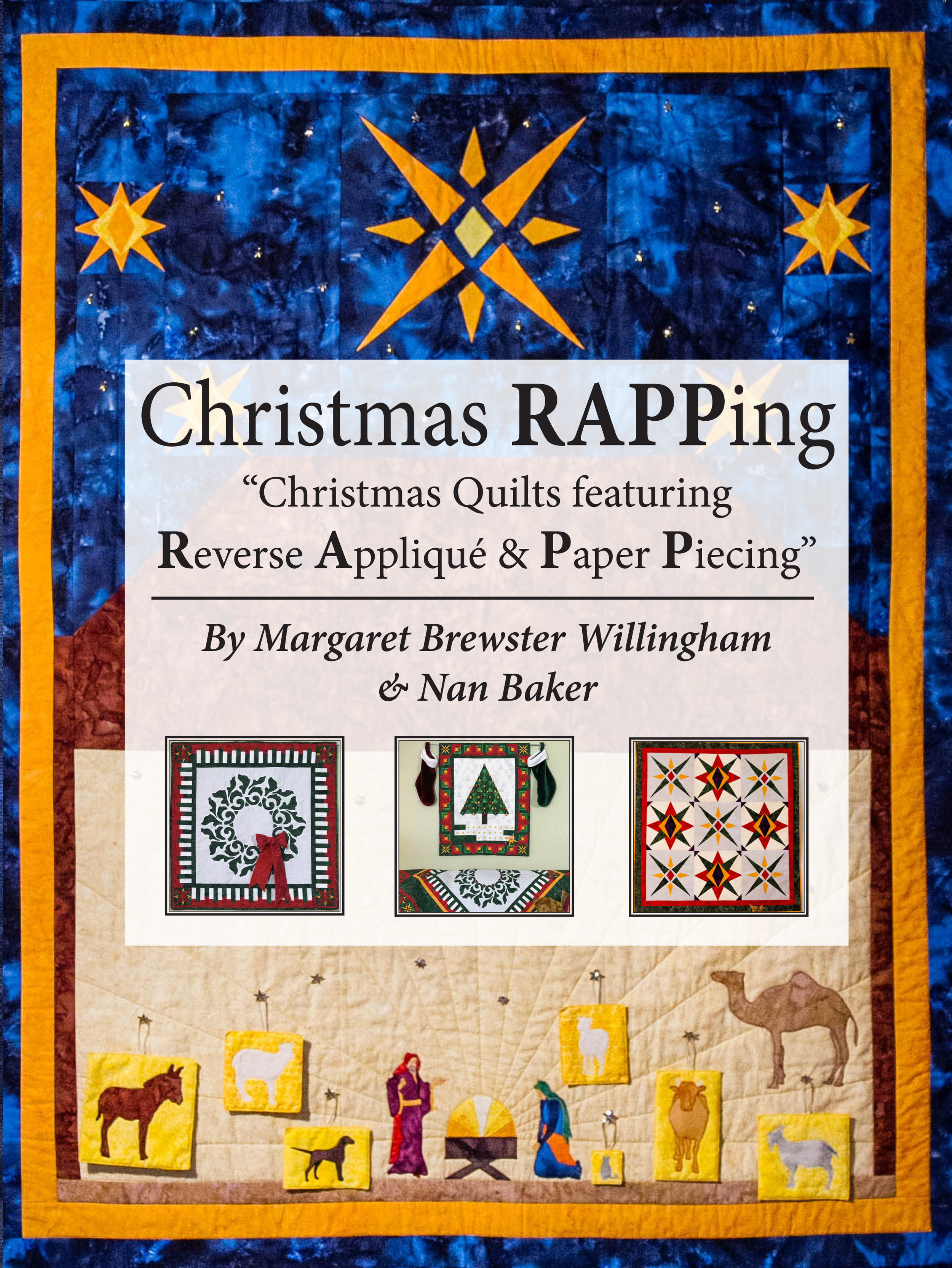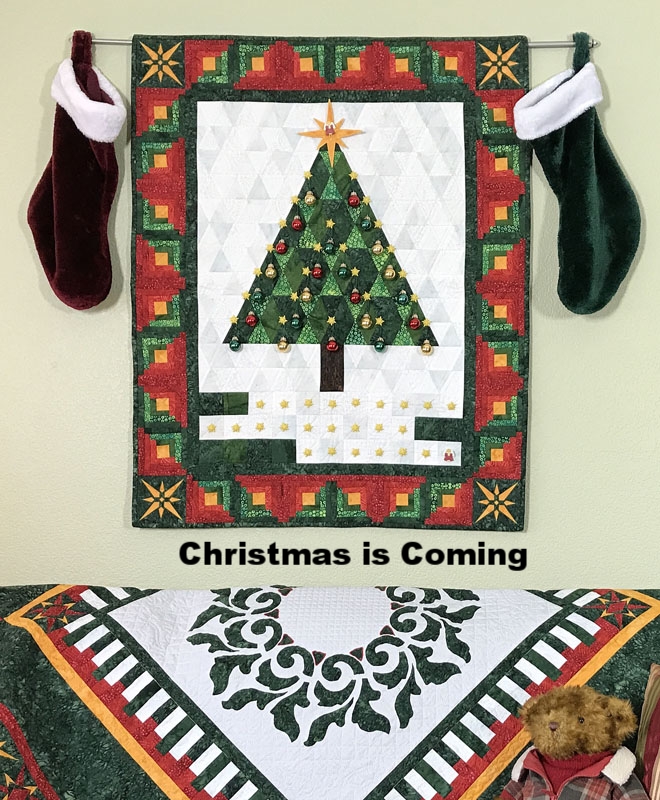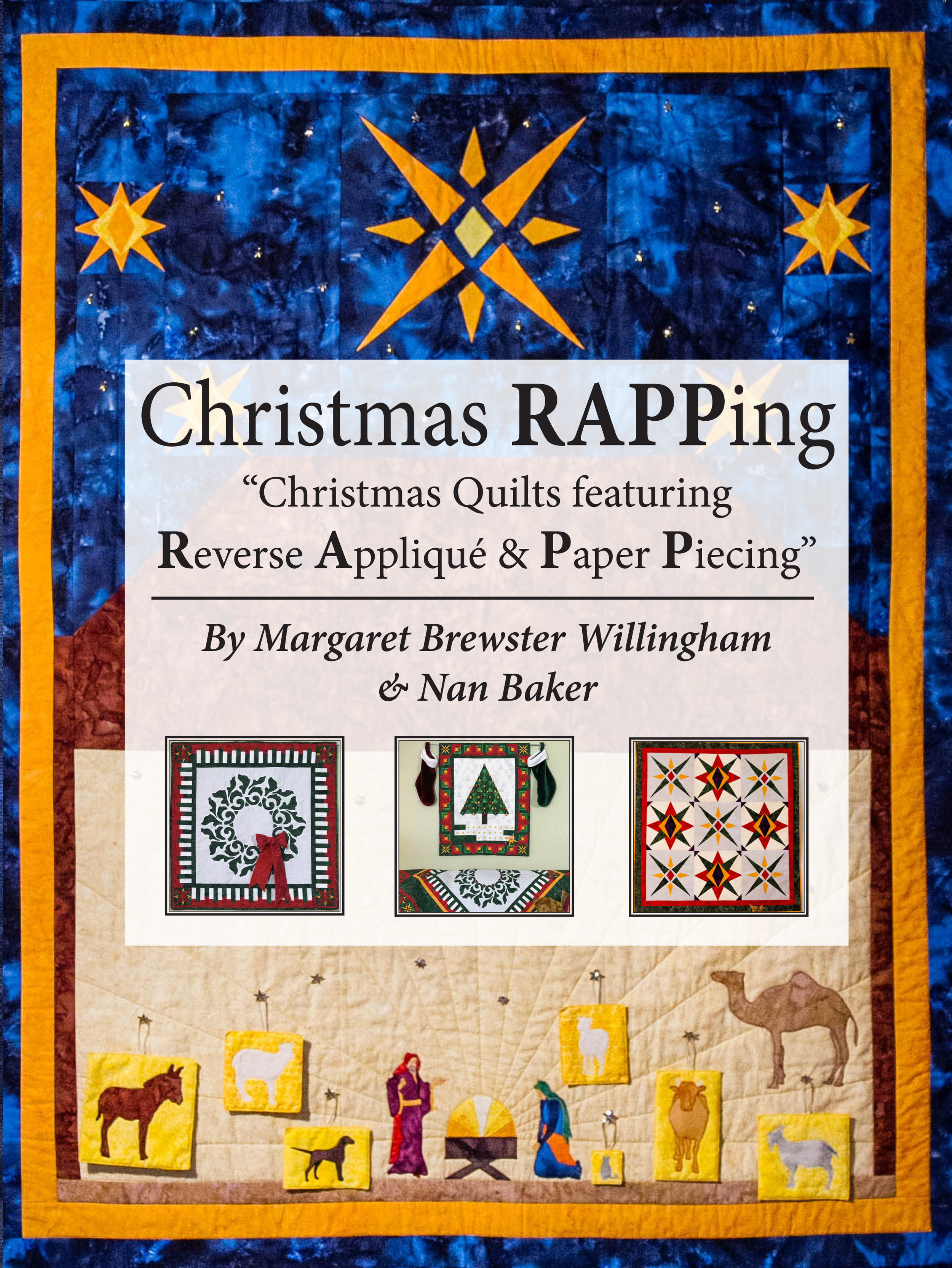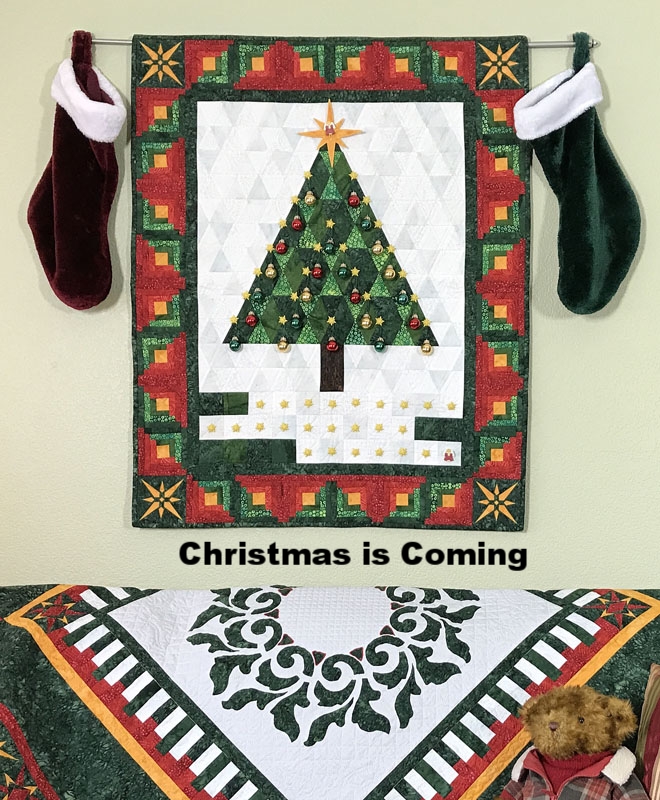 Christmas RAPPing book
Christmas RAPPing,
Christmas Quilts featuring Reverse Applique & Paper Piecing
by Margaret Brewster Willingham & Nan Baker
Difficulty: Beginner
Reverse Applique for Hand or Machine, Paper Piecing, Machine Piecing
Two talented women from the quilting world have joined forces to bring you Christmas RAPPing, Christmas Quilts featuring Reverse Applique and Paper-Piecing! Margaret Willingham (Eye of the Beholder Quilt Design) and Nan Baker (Marketing Director for The Quilt Pattern Magazine and Purrfect Spots Designs), have blended together their distinctly different styles to create these gorgeous quilts to celebrate the Christmas season.
The ten plus projects vary in size from table runners to wall hangings to full size quilts and even Christmas tree decorations. There are multiple quilt size options and alternative color variations. The variety of designs all include the unique Star patterns - Star of Light and Star of Wonder in 4" and 12" sizes - found throughout the book. Two projects, Christmas is Coming and Miracle at the Manger, are interactive quilts - great for helping children young and old start the countdown to Christmas Day!
We have fabric kits available in our shop to make the Christmas is Coming wall-hanging. This fabric only kit includes all materials for the top & binding. Also there are embellishment packs to complete your piece: 48 Star button packs; 2 Angel button packs and 24 Ornament packs.
All the designs feature Reverse Applique and Paper Piecing so you can learn new techniques using the book's easier, more streamlined methods, and were designed in the timeless Foundations collection batiks by Island Batik and stitched together with threads by Aurifil. All patterns in the book are full-sized. There's no need to re-position as you trace the designs onto fabric or iron-on fusible. (the additional information page for a list of corrections, and additions to improve the book. If you would like a printed copy of these corrections please contact us and we will gladly email them to.)
May these quilts become Christmas favorites and family heirlooms.
The book is available as a digital PDF download as well.
Oops! We found some typos!
We endeavor to deliver well-written, accurate and understandable pattern directions for making our patterns. However, we are human and mistakes happen. This book went through testing and multiple layers of editing, but…. items still were missed. We promise to fix any errors and give our customers the corrected information.
After printing Christmas RAPPing, Christmas Quilts featuring Reverse Applique & Paper-Piecing, we found edits to improve the directions and some typos that needed fixing.
Take note: In Christmas is Coming, p. 30, and O Tannenbaum, p. 37, certain materials are cut larger if you opt to Paper-Piece the 4" Log Cabin blocks. This information used to be at the end of the cutting directions, but we have moved it to the beginning in hopes you won't miss it before you cut your fabric. Fabrics that are affected have an ** in the cutting directions. (If you are going to paper-piece the 28 Log Cabin Blocks, cut the ** strips 1 ¾"x WOF, and sub-cut into rectangles 1" longer than corresponding PP logs.)
Radiant Wreath had several typos. Corrections are as follows.
Page 45: Cutting, Red 1 (R1): the 3rd cut should read Cut: 1 - 3" x WOF strip. Sub-cut: 16 – 2" x 3" rectangles, mini-Star of Light-PP3, NOT Cut: 1 – 2" x WOF strip.

Page 46: Keyboard Block, Unit C: at the end it should read Cut apart into 28 – 1 ½" x 4 ½" pieces.

Page 47: At the end of 1st Inner Borders, it should read Quilt top measures 28 ½" x 28 ½, NOT 27 ½" x 27 ½". At the bottom of the page it should read Quilt top measures 36 ½" x 36 ½", NOT 35 ½" x 35 ½".

Page 48: In the Adding the Outer Borders, the 2nd sentence should read, Measure and mark 18", NOT 17 ½", the half-length, from the center to each end.

In the Pattern Appendix, pages A4 – A7, the Star of Light: Paper Piece Foundation (12" x 12") is now gray-scaled.

Throughout we added a print scale, and this reminder on all PPF that you would print at home, "To print full size, make sure your printer is set to print "ACTUAL" size, NOT to FIT".

Sorry for any confusion. We have fixed the problem for future printings of the book

Happy Quilting!