Legacy - Medallion XVI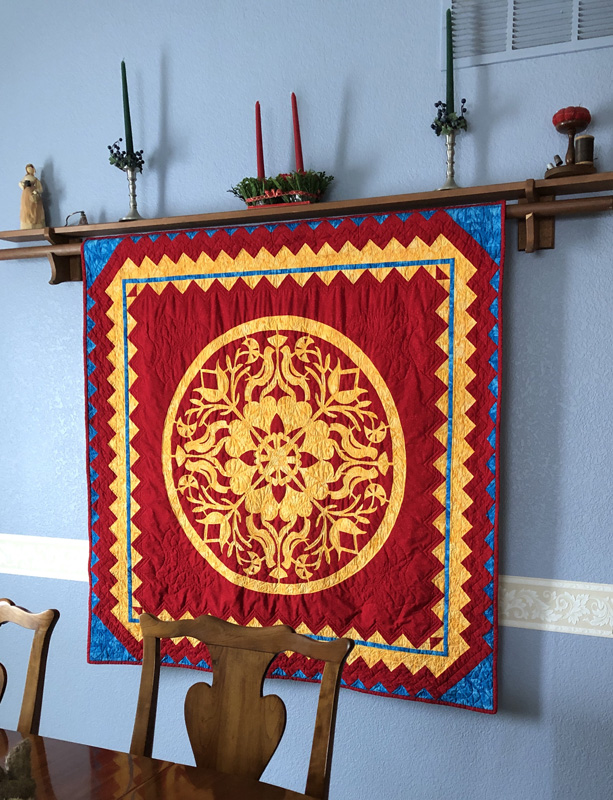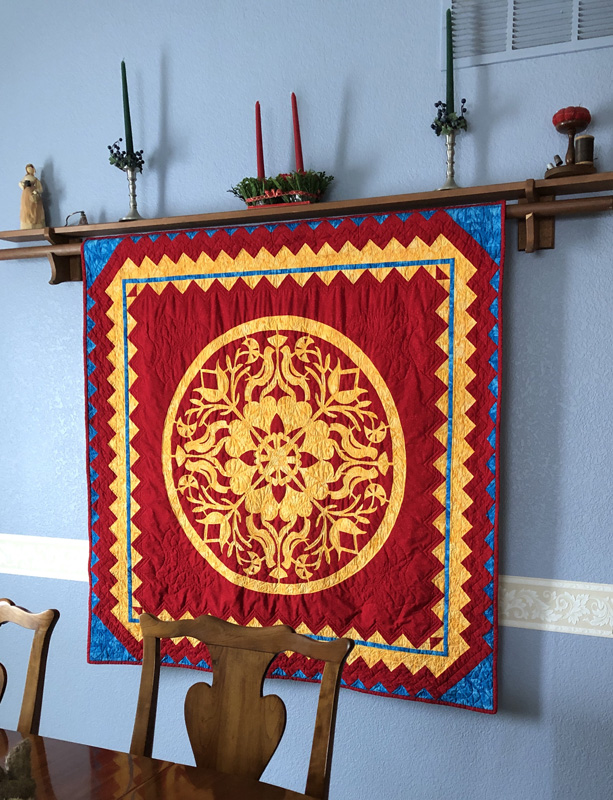 Legacy - Medallion XVI
"Ancestral Scherenschnitte, September 19, 1817".
Difficulty: Intermediate - Advanced
Reverse appliqué pattern – Hand directions & paper-piecing
(50" x 50")
ILegacy is a confident intermediate - advanced level medallion-style quilt for hand reverse applique. The pattern was inspired by a family Scherenschnitte dated 1817 to announce the birth of Hannah Grover Lauck on September 19. The pattern has complete how-to directions, but you can also see our blogs & technique tutorials to find out more. We were inspired to bring this design to life by the fabrics from Batik Textile's , Spring 2019. Your fabric choices will make it come alive with your own unique style. The Scherenschnitte center medallion is framed by paper-pieced border blocks. (see * below)
Make it as a beautiful wall-hanging, or build a quilt around it with Legacy as the center.
Pattern has complete creation instructions using Eye of the Beholder's Trace, Baste, Snip & Stitch technique for hand reverse needle-turn applique and Paper-piecing, supported by Technique Tutorials and blogs on this website, and full-size, durable pattern pieces. There's never a need to enlarge the pattern or re-position fabric.
This pattern will be available as a digital PDF download .
*Some typos were found on the pattern. After printing Legacy, Medallion XVI we found these typos
Page 1. Cutting for Red with Dots (R1), cut: 8 – 2 ¾" x WOF strips; the 32 – 2 ¾" x 1 ¾" rectangles, Zig-zag Blocks: PPF should be (B5) NOT (A5) as printed.

Page 8. Zig-zag PP Blocks, Needed: it is 32 R1- 2 ¾" x 1 ¾" rectangles, Zig-zag Blocks: PPF (B5) NOT (A5) as printed.
Sorry for any confusion. Please make a note on your pattern.
Happy Quilting!
Finished dimensions: 50 in x 50 in
Legacy was designed in Spring 2019 fabrics by Batik Textiles. Fabric skus are noted.
Materials required:
Top & Binding:
2 1/2 yard - Red with Dots (#1436)

2 yards - Yellow (#4936)

3/4 yards - Red with Vine (#107)

1 yard - Turquoise Blue (#4942)

Backing Fabric: 60" x 60" square, 3 1/3 yards - (#4929)

Batting: 60" x 60"

36 Perfect Piecing Foundation Sheets by June Tailor
Please note:
For the hand version of this quilt, it is very important to use a light background material which will assist you in tracing the medallion pattern onto the fabric.
.